The Works for Piano 11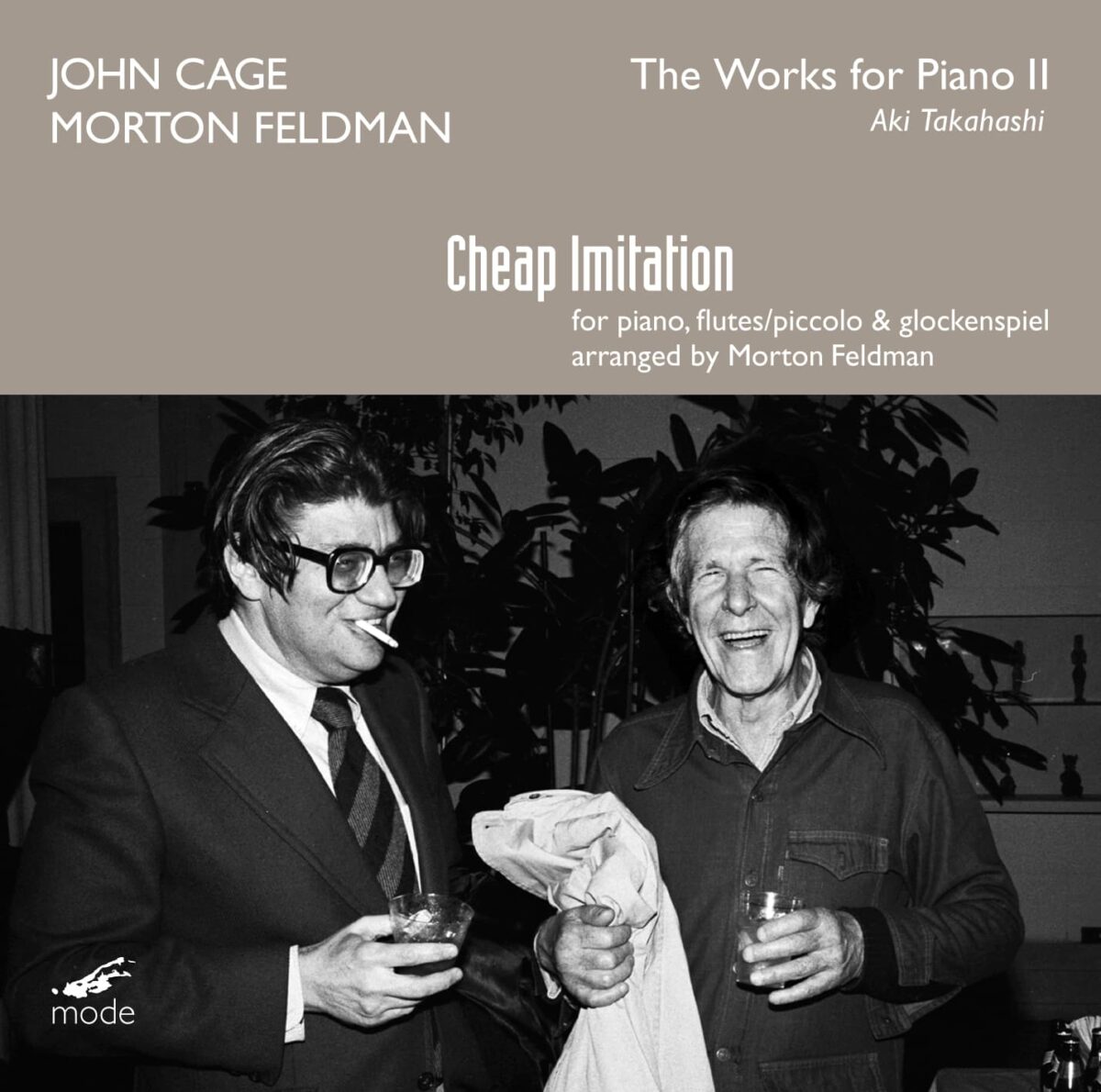 $14.99
mode 327 John CAGE: Cage Edition Vol. 54; The Works for Piano 11: Cheap Imitation; Swinging; Perpetual Tango; All sides of the small stone for Erik Satie and (secretly given to Jim Tenney) as a koan + FIRST RECORDING of Morton FELDMAN's trio arrangement of Cheap Imitation for piano, flutes & glockenspiel. — Aki Takahashi, piano
Morton Feldman – Edition Vol. 13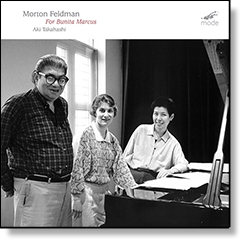 For Bunita Marcus (1985)
Aki Takahashi, piano
mode 314 (CD)
For Bunita Marcus opens with a clear call to our attention. With these first six notes, we step over the threshold and into the journey of the piece. We know that we are in this for the long haul: Morton Feldman's late works are notorious for being marathons. He composed For Bunita Marcus in 1985, immediately after his four-hour For Philip Guston, and two years after his six-hour String Quartet (II) These earlier works make an hour-long solo piano piece seem short. Still, it is a long time to sustain a single movement, a single journey, and we inevitably have this in mind as we take the first step: so this is how it starts.
For Bunita Marcus, like all the late Feldman works, is an adventure that takes a relatively long time to play out, but which is remarkably lacking in heaviness. We may expect an epic, but we get something much subtler. Indeed, what we get is the present moment, in all its beauty, over and over again. If we surrender to the musical image that is right in front of us, a piece like For Bunita Marcus is an easy world to enter into and to explore with Feldman. We step into the silence after that first six-note motto, and we wonder: What comes next? The next hour and a quarter is spent doing nothing more than discovering what comes next—and the next thing after that, and the next after that.
For Bunita Marcus is performed here by Aki Takahashi, one of the greatest Feldman intrepreters. After Triadic Memories, Feldman composed all his piano music for Aki Takahashi. In remarks made before the U.S. premiere of Triadic Memories, he described Takahashi as "absolutely still," "undisturbed, unperturbed, as if in a concentrated prayer." He found that her concentration was transmitted to the audience; a performance by her was "like a séance." Ms. Takahashi premiered the work in Middleburg, The Netherlands in 1985. Through her performance, the journey of For Bunita Marcus is rich in color, pacing and poetry.
The cover photo of Feldman, Bunita Marcus and Aki Takahashi was taken around the time of the premiere.


REVIEWS:
Retrato al patrón y a la resonancia
English highlights:
… even though many of the aforementioned recordings provide very interesting readings, I would place this new record of Aki Takahashi for mode records at the head of the discography …
Aki Takahashi performs in this reading of For Bunita Marcus, recorded in 2007, an exercise of rarely heard rubato: which Feldman worshiped in Takahashi and so often asked of to vivify his music. It is thanks to this rubato, to a large extent, that this reading is loaded with so many expressive nuances, combining a phrasing which is much more lively than the most ecstatic versions, with a expressive suspension in the silences by deft use of the pedal. In this way, the patterns are loaded with emotion and relief, because in terms of dynamics we are also facing one of the most emphatic versions, … which brings more planes and different reliefs for each note of a pattern. In addition, and thanks to the magnificent recording, we practically visualize the piano, it seems that the harmonic spectrum is expanding and contracting.

Peter Garland: The Birthday Party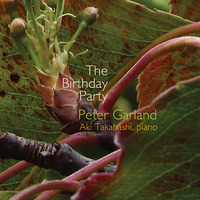 Composer(s): Peter Garland
Album Title: Peter Garland: The Birthday Party
Cat. No.: 80788
Genre: Classical / Piano
Release Date: 05/2017
Description: Download Album (Lossless - $9.99)

Aki Takahashi, piano

On first hearing, the piano music of Peter Garland (b. 1952) creates a feeling of dislocation, then astonishment: It is so very different from the contemporary concert music we are familiar with. The composer's intent, his emotional directness is immediate - despite the unusual sound world and different sense of time that these pieces exhibit. Time itself appears to be suspended, and rhythm, melody and harmony are transformed into quite different entities in a universe parallel to our own - as accessible but not quite of it.

The three pieces on this CD, The Birthday Party (2014), Blessingway (2011-12) and Amulet (After Roberto Bolaño) for 4 pianos (2010), are quite different in nature from much of Garland's previous writing for piano, more lyrical than dramatic in feeling. The Birthday Party in particular is the work of an artist looking back - pensive, even nostalgic, open to musical associations. The Birthday Party is explicitly a study in both memory and loss; in Garland's own words it is not just a "toast" to Aki Takahashi, the dedicatee, on her birthday, but also to ". . . those who are still with us [and to] our friends and loved ones who are no longer alive."

Blessingway takes its title from a Navajo ceremony, but its use here must be seen as reflecting a purely personal association of some kind for Garland rather than any literary or musical connection to the ceremony in the piece. It is generally broad and sonorous in character, with subtly changing chordal melodies in the right hand over prominent bass parts with their own independent rhythmic profile; a resonant field is created between treble and bass not unlike that which one finds in much of his percussion music.

Amulet was written for Aki Takahashi. She herself consecutively recorded all four parts before they were mixed down. Garland's original concept, explained in his introduction to the piece, was ". . . that these are not four separate pianos; but rather they form one big piano, the sum of their parts." The title Amulet references to a high degree a novel of the same name by the Chilean/Mexican writer Robert Bolaño (1953-2003), particularly its last five pages. Amulet is in large part a humorous work, albeit one with a dark side. As Garland describes it, a comparison to some of the great comic actors of the silent screen era can help explicate some of the contradictions of his piece: "As the films of Chaplin and Keaton or the plays of Samuel Beckett show us, pathos can be the 'other side' of humor - which differentiates it from tragedy, which lacks that humorous aspect. So there is an element of humor and (restrained) melodrama in this music."

CD review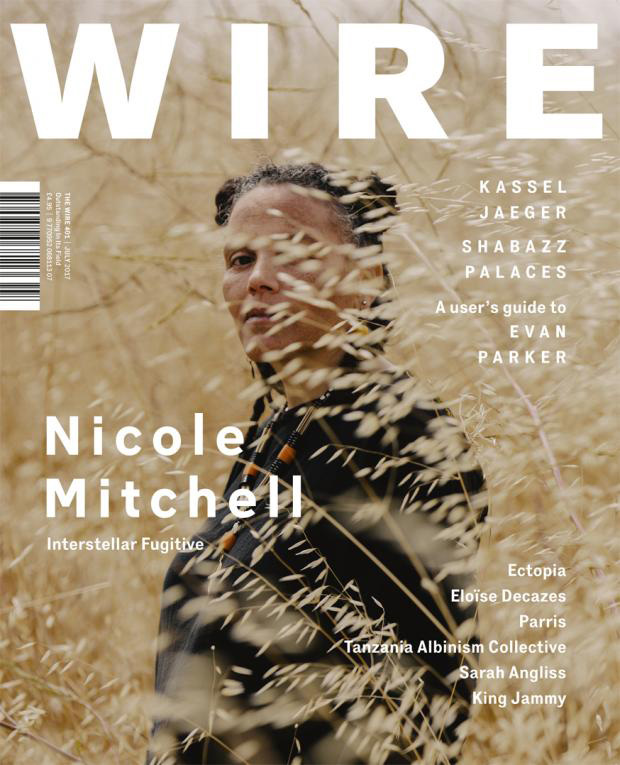 https://www.thewire.co.uk/issues/401
Peter Garland: The Birthday Party
As editor for 20 years of the journal Soundings, Peter Garland's consistently fine work as composer is often overlooked. These three pieces for piano, played by his longterm associate Aki Takahashi, display Garland's taste for structural sturdiness and harmonic nuance, each chord decisively placed, each pause shimmering sonorously like heat-haze radiating through a rugged landscape. But there's an unexpectedly intimate feel to The Birthday Party. Satie's influence, translated from Montmartre to Maine, contributes to the music's reflective nature and flexible take on time. Takahashi nurtures Garland's habitual lucidity, even when on Blessingway – a Navajo name – fuzzy clusters approximate distorted blues guitar. Amulet, inspired by a Roberto Bolaño story, has four piano tracks interlocked. They teeter dramatically between buoyancy and melancholy.




Barbara Monk Feldman: Soft Horizons



Aki Takahashi, piano;
FLUX Quartet (Tom Chiu, Conrad Harris, violins; Max Mandel, viola;
Felix Fan, cello);
The DownTown Ensemble (Margaret Lancaster, flute; Daniel Goode, clarinet;
Larry Polansky, guitar, mandolin; Joseph Kubera, piano;
Chris Nappi, vibraphone)

The compositions contained on this disc, like many of Barbara Monk Feldman's (b. 1953) works, have a strong connection to specific locations, and take their inspiration from landscapes the composer has known and experienced - not as literal depictions in sound, but as abstracted impressions of the colors, textures, and atmospheres evoked by these special places.

The Chaco Wilderness (2005) and String Quartet No. 1 (2004) both take their inspiration from the high deserts of northern New Mexico, where she lived from 2000 to 2012. Specifically these compositions reference the area around Chaco Canyon in the northwest part of the state, the site of abandoned ancient Native American settlements perched at the bottom of the rugged cliffs of this harsh but beautiful landscape. In program notes for the quartet, the composer has compared these cliffs to a "gravitational sculpture," addressing the close ties her music has both to nature and the visual arts. Like Georgia O'Keeffe's work, the music takes its inspiration from nature, but from this initial impulse reaches out towards abstraction. As in O'Keeffe where natural subjects are highly stylized, in Monk Feldman's work the melodic figures, while beautiful and expressive, are the starting point for more intensive exploration of instrumental color, texture, and registral shapes and contours.

The score to Soft Horizons (2012), for piano, is inscribed with the location of Gaspésie, Quebec. As with the desert, the paradoxes of scale are palpable in the maritime landscape of this location, where the St. Lawrence River widens out to meet the Atlantic, the river gradually becoming the ocean in one direction, while the varying light - either reflecting off the water's surface, or mixing with the rising fog - creates another illusion, blurring the distinction between the surface of the water and the distant horizon, and between the water, air, and land. Soft Horizons dissolves any fixed point of reference into a misty floating world of sound. It explores the full range of the instrument, and in doing so creates its own audible illusion, gently playing with the inherent limits of human perception
Barbara MONK FELDMAN
The Northern Shore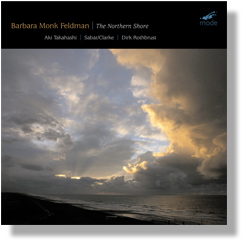 Mode Records
(b.1953)
mode 244

THE NORTHERN SHORE (1997) 28:26
Sabat/Clarke

Marc Sabat, violin

Stephen Clarke, piano

Dirk Rothbrust, percussion

IN THE SMALL TIME OF A DESERT FLOWER
(2000) 26:58
Aki Takahashi, piano

Barbara Monk Feldman was born in Quebec, Canada. She received a Master in Music from McGill University, Montreal, and Ph.D in Music at State University of New York at Buffalo, where she studied with Morton Feldman, to whom she was married in 1987. This is the first monographic CD devoted to her music.

The works on this program are part of a series of compositions that take their inspiration from nature –in particular from aspects of nature that the composer experiences as resisting an alignment with her ideas about musical form. The composer writes:

At the Gaspé peninsula in Quebec where the St. Lawrence river widens into the sea, the opposite shore appears across the water as a mirage that is either enhanced or diminished by the intensity of the light on the water during the day. I kept the memory of this light in my mind during the composing of The Northern Shore …some aspect of the light and horizon might be intimated in the way differing registrations of the violin are sustained in relation to the percussion and piano.

I was interested in the reaction of the composer Lou Harrison to In the Small Time of a Desert Flower after we listened to the recording of the premiere of this work, performed by Aki Takahashi, for whom the piece was written. He was very enthusiastic and his first remark was, "The rhythm of the piece seems to come from the geography of a landscape ―something I have never heard before!"

The interpreters are a stellar group of new music performers: pianist Aki Takahashi who has a long connection with both Monk Feldman's and Morton Feldman's music, the duo Sabat/Clarke, and percussionist Dirk Rothbrust of Ensemble musikFabrik.

Both works are first recordings.

Liner notes by Barbara Monk Feldman.

Peter Garland
Waves Breaking on Rocks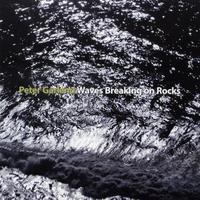 new world records
Peter Garland (b. 1952) studied with Harold Budd and James Tenney at Cal Arts and had long student-mentor friendships with Lou Harrison, Conlon Nancarrow, Paul Bowles and Dane Rudhyar. Like Harrison, Garland has forged his own musical vocabulary as a kind of new indigenous music, celebrating pan-cultural experience and vision, and unafraid to suggest that music can still give us a glimpse of that which is sacred.

Waves Breaking on Rocks (Elegy for All of Us) (2003) is a suite of elegies that was composed for and commissioned by Aki Takahashi, Garland's long-time friend and collaborator. The work's six movements are composed for lost friends or are personal responses to the cycles of life and the recurrence of the seasons. Together, they form a structure for the whole that elegizes both our togetherness and our impermanence. Garland's musical approach to the piano emphasizes resonance, space, and color. The piano is a sculptural whole in this music, in which phrases, melodies, and songs seem to be carved from the keyboard rather than imprinted from without.

Roque Dalton (1935–75) was a Salvadoran poet, activist and guerrilla, who was executed in El Salvador's civil war after numerous close calls throughout his short life. Garland captures the political, historical, and romantic aspects of Dalton in his choice of five of Dalton's poems to comprise the The Roque Dalton Songs (1988). Garland uses an unusual but remarkably effective orchestration in these settings for tenor, building the ensemble from the "bottom up"with four percussionists, emphasizing dance-like rhythms throughout which inform the basis of melody. Piano and harp next anchor the ensemble in often translating the rhythms into repeated melodic patterns and ostinati, while bass clarinet, trumpet, and two violins round out the color of a sound that is not classical, but exemplifies Garland's pan-cultural "new indigenous music."

In both of the works on this recording, Peter Garland has paid loving homage to the dedication and creative vision of others, lending faith where futility lurks. His music parts away the noise of the world to speak of commitment, humanity, and love.


Iannis Xenakis


(1922-2001)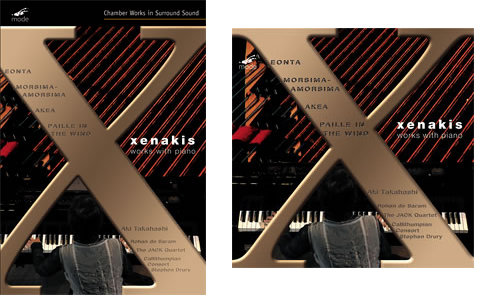 mode records
(
mode 217
)

Xenakis Edition Vol. 11
Works with Piano
Aki Takahashi, piano

Eonta (1963) for piano, 2 trumpets & 3 trombones (22:20)

Morsima/Amorsima (1962) for piano, violin, cello & contrabass (10:55) with the Callithumpian Consort, Stephen Drury, conductor

Akea (1986) for piano & string quartet (13:53)
with the JACK Quartet

Paille in the Wind (1992) for piano & cello (5:09)
with Rohan de Saram. Only available recording

Morton Feldman
(1926-1987)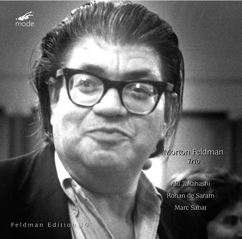 Morton Feldman
Trio(1980) 1:45:22
Aki Takahashi, piano
Rohan de Saram, cello
Marc Sabat, violin

mode records(
mode21
)

The expansive length of Feldman's Trio(1 hr.,45min.,22sec.) requires a new approach to listening, which takes scale, the physical experience of sound, and novel uses of musical memory into consideration. With his delicate manipulation of musical materials, Feldman blurs the listeners' sense of time as their musical memory struggles to distinguish between past and present sounds - listeners are free to lose themselves in the beauty of each musical moment.

Aki Takahashi and Rohan de Saram (formerly of the Arditti Quartet) both worked closely with Feldman. Marc Sabat is among today's great Feldman interpreters, having recorded Feldman's complete music for violin & piano on Mode

The Piano Works 3
Giacianto Scelsi


mode records(
mode159)

Complete Works for Piano Solo
Giacianto Scelsi (1905-88)
Aki Takahashi, piano

Suite No.10 "KA" (1954)
Quatro Illustrazioni (1953)
Sonata No.3 (1939)
Cinque Incantesimi (1953)
Un Adieu (1978/88?)

DVD


Piano Works in Surround Sound
The Piano Works 3
Giacianto Scelsi


mode records(
mode159)

Complete Works for Piano Solo
Giacianto Scelsi (1905-88)
Aki Takahashi, piano

Suite No.10 "KA" (1954)
Quatro Illustrazioni (1953)
Sonata No.3 (1939)
Aitsi for amplified piano (1974)
Cinque Incantesimi (1953)
Un Adieu (1978/88?)

Iannis Xenakis


(1922-2001)


mode records(
mode 80)

Complete Works for Piano Solo
Aki Takahashi, piano
Xenakis Edition Vol. 4

Evryali (1973) for piano solo
Dikthas (1979) for violin and piano
Herma (1960-61) for piano solo
Palimpsest (1979) for piano, six drums, winds and strings
Six Chansons pour piano (1950-51)(first recording)
・Ca sent le musc …
・J'avais un amour autrefois …
・Une perdrix desecendait de la montagne…
・Trois moines cretois …
・Aujourdui le ciel est noir…
・ Sousta , danse
Mists (1980) for piano solo
A.r. (1987) for piano solo
96/24-bit Hi-definition REMASTERING

Iannis Xenakis
ASKO ensemble



David Porcelijn : conductor
Harry Sparnaay : bass clarinet
Aki Takahashi : piano
ATTACCA

Echange(1989)
Palimpsest(1979)
Waarg(1988)
Eonta(1963)

Morton Feldman


(1926-1987)



mode records(
mode 54)

Aki Takahashi plays Morton Feldman
Aki Takahashi, piano
Piano Piece 1955
Two Intermissions
Illusions
Extensions 3
Piano Piece (to Philip Guston)
Palais de Mari

Morton Feldman
piano and string quartet
KRONOS QUARTET
with AKI TAKAHASHI



ELEKTRA ENTERTAINMENT

David Harrington : violin
John Sheba : violin
Hank Dutt : viola
Joan Jeanrenaud : cello
with
AKi Takahashi : piano

Peter Garland


(b.1952)


mode records(
mode 110
)

Peter Garland - Another Sunrise
Aki Takahashi, piano & harpsichord
Essential Music
John Kennedy & Charles Wood, directors
Another Sunrise (1995)
Dreaming of Immortality in a Thatched Cottage (1977)
I Have Had to Learn the Simplest Things Last (1993)

Peter Garland
the days run away
AKI TAKAHASHI:PIANO



tzadik

BRIGHT ANGEL - HERMETIC BIRD
THE DAYS RUN AWAY
A SONG
TWO PERSONMINIATURES Ⅰ
TWO PERSONMINIATURES Ⅱ
THE FALL OF QUANG TRI
NOSTALGIA OF THE SOUTHERN CROSS

Peter Garland
Walk in Beauty
AKI TAKAHASHI : PIANO
Abel-Steinberg-Winant-Trio



New Albion Records

Walk in Beauty Aki Takahashi:piano
Sones de Flor Abel-Steinberg-Winant-Trio violin,piano,vibraphone,&tom-toms
Jornada del Muerto(in memoriam...Lew Welch) Aki Takahashi:piano